Local
Samuel Brock Flynn of Crossville earns PC Hardware Professional Certification
Samuel Brock Flynn achieves PC-Hardware

| | |
| --- | --- |
| Samuel Flynn with certificate | Source: samuel flynn |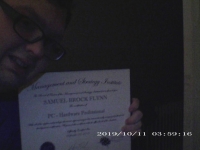 samuel brock flynn show - This is Samuel happy and proud of his self for earning his Professional certification in PC-HARDWARE.




CROSSVILLE, Tenn. - Oct. 10, 2019 - PRLog -- Samuel Brock Flynn achieves PC-Hardware Professional through the Management and Strategy Institute

Crossville, TN – Samuel Brock Flynn has successfully completed the requirements to obtain the certification of PC-Hardware Professional through the Management and Strategy Institute on September 27,2019 .

Graduates of Management and Strategy Institute certification programs demonstrate a commitment to their professional development by acquiring new skills and certifying those skills via examination.

About Management and Strategy Institute:
The Management and Strategy Institute provides professional development certification in key business skills that are in high-demand within corporate America. Professional certifications are an important benchmark that employers use to gauge the quality of a candidate. Certifications through the Management and Strategy Institute are rigorous, affordable, and competency based making them desirable to employers. You can learn more about the Institute at http://MSIcertified.org.

Samuel has always had an interest in computers and he still does today so he went out of his way to go and get his certification in PC-Hardware to become a professional in that field to fix computers for people that have had enough of their PC so they bring to a professional to fix the problems in the computer.

Keywords: Samuelbrockflynn, Msicertified, Samuelbrockflynnshow, Pchardware, Hardware, Crossvilletn
Liability for this article lies with the author, who also holds the copyright. Editorial content from USPA may be quoted on other websites as long as the quote comprises no more than 5% of the entire text, is marked as such and the source is named (via hyperlink).
| | |
| --- | --- |
| | Daren Frankish |
| | RAHMA-SOPHIA RACHDI |
| | Ruby BIRD |
| | Yasmina BEDDOU |
| | Aurangzeb Akbar |